Rafael Nadal Bio 2021: Age, Titles, Girlfriend, Net Worth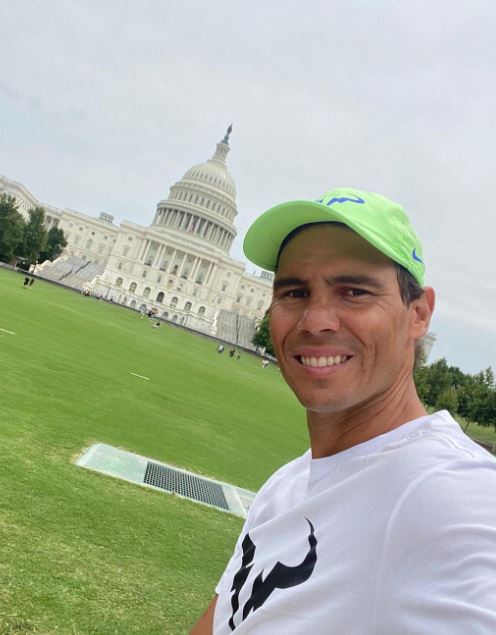 Introduction
Rafael Nadal (born June 3, 1986) is a popular Tennis legend and the only third player to win 20 grand slam titles in his career. He has formed a massive rivalry with other Tennis legends like Roger Federer and Novak Djokovic. Rafael Nadal is currently on no 6 as per ATP rankings. He already has an illustrious career which started in 2001. Nadal has been no 1 in ATP ranking for over 4 years consecutively when he was in his prime. Described as the Master of Clay court, Nadal has kept the world record of winning 13 French Open Title. Nadal was vicious from his serve and had most Aces in a tournament at one time. Rafael Nadal is also one of the most followed Tennis Player on social media with over 12 million followers on Instagram alone.
Biography
Rafael Nadal was born in Mallorca, Spain. His father's name was Sebastian Nadal and his mother's name was Ana Maria Pariera. Sebastian Nadal was a successful businessman in Spain whereas Ana was a homemaker. He had an uncle named Miguel Angel Nadal who played for RCD Mallorca, Barcelona, and Spain. Rafael Nadal's family were fans of Barcelona and he himself loved Ronaldo Nazario from Barca but he loved Real Madrid more than anything when he grew older.
When he was young, he loved football but his other uncle Tony Nadal introduced him to Tennis and he liked it in an instance. He was natural and Nadal learned the game when he was just 4 years old.
Career
Nadal started his amateur training when he was just 10 and started to show his potential so much that the Spanish Federation of Tennis urged Nadal and his family to move to Barcelona for more support for Nadal but their parents refused it. This means the financial support for Nadal for Tennis was limited so his father had to work hard and provide money for his training. Rafael Nadal was selected for the exhibition match against Pat Cash which Nadal won to everyone's surprise and everyone now was starting to believe the kid was something special.
Rafael Nadal's professional career started when he was just 15 years old. The same year in April 2002, Nadal won his first ATP tour and became the ninth player to win that before reaching 16 years. He also participated in the boy's single tournament of Wimbledon when he reached the semifinals. However the next year he decided to participate in the Wimbledon after increasing the rankings and reaching the fourth round which was the record of becoming the only second teenager to reach the fourth round since Boris Baker in 1984. Rafael Nadal was continuously improving, however, had not won his first Grand Slam yet. On his first Australian Open, he reached the third round but his first grand slam came in 2005 after winning 26 consecutive clay-court matches and even defeating Roger Federer in the semi-finals and Mariano Puerta in the final. Such amazing technique and feature in the clay-court gave him the nickname King of Clay.
Rafael Nadal won French Open consecutively for three years running and also won Wimbledon beating Roger Federer in the longest-running Wimbledon final at Five hours and five minutes. This legitimately made Nadal one of the greatest tennis players in the world and he was no 1 in the ATP rankings. Nadal made a world record on winning on the clay court to 32 matches after winning the ATP tour in 2008.
By 2014 Rafael Nadal has won his ninth French Open title and went on to win four more of them to create the world record of most French Open titles. In 2020, Nadal made the record of winning 13 French Open Title and in the process made a record of winning the 20th Grand Slam title and became only second and now third tennis legend to win those along with Roger Federer and Novak Djokovic.
Marital Status
Rafael Nadal has married his longtime girlfriend Maria Francisca Perello in 2019 after dating for almost 10 years. The couple was always happy so there was no rush but in 2019 there was a fairytale wedding where most of the Tennis industry was invited. Currenlty The couple do not have any children. Nadal has actually cleared it on the interview that he wants to give full focus on Tennis before bearing the responsibility of becoming a father.
Net Worth
Rafael Nadal is a popular Tennis legend with 20 Grand Slams and records 13th time French Open champion. He has earned his name all around the world due to his incredible talent. During this process, Rafael Nadal has earned quite a lot of income, assets, and properties from the career of the professional Tennis Player. He has sponsorship from various brands and sponsors. Currently, Rafael Nadal has a net worth of approximately $200 million as of 2021.
Interesting Facts
Rafael Nadal started learning tennis when she was just 3 years old.
Despite dating for 10 years and being married for ove 2 years Nadal do not have any children.
Rafeal Nadal is a massive fan of Real Madrid Football Club despite his uncle playing for Barcelona.
He is shy person and do not like to share personal informaiton on social media.
Rafael Nadal has a net worth of approximately $200 million as of 2021.