Leander Paes Bio 2021: Age, Career, Net Worth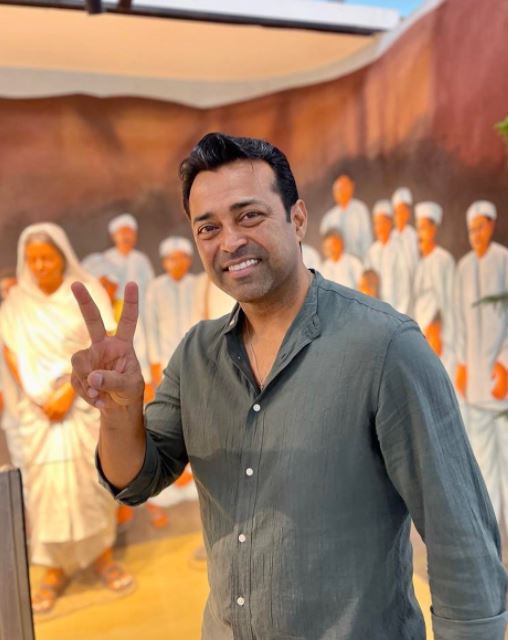 Introduction
Leander Paes (born June 17, 1973) is a popular double tennis player from India. He is regarded as one of the best doubles tennis players in the world. Paes is popular for his partnership with Mahesh Bhupati and Sania Mirza in the men's doubles and mixed doubles tennis tournament respectively. Paes is also very popular and has a lot of prestige for his performances in the Davis Cup being the first player to win maximum tennis matches. He also has a total of eighteen grand slam titles which consist of 10 males doubles and eight mixed doubles championships. Paes is also the only Indian player to compete in multiple Olympics games. His path to glory in tennis was written from an early age as he won Wimbledon under 16 tournament growing up. Paes is also the ambassador for the Indian Tennis federation to promote Indian Tennis all around the world.
Biography
Leander Paes was born in Kolkata, India. His father's name was Vace Paes was also a sportsman and well-renowned hockey player. His mother Jennifer Paes was also a popular basketball player and was the captain of the national basketball national team. During his childhood, Leander was very good at studies and often used to get very good grades. He attended La Martiniere and then went to St. Xavier's College. Leander was also equally good at sports and eventually wanted to learn tennis so he joined Britannia Amritraj Tennis Academy in Madras. He was coached by veteran coach David O' Meara. Leander was a bright Tennis player from the first place as he won Wimbledon Junior Title and became no 1 Junior Player for a while.
Career
Leander Paes's professional career started in 1991. He reached the quarter-finals of the Barcelona Olympics in 1992 along with Ramesh Krishnan. Paes was starting to make a name for himself and his big year came in the 1996 Atlanta Olympics where he defeated Fernando Meligeni and won the bronze medal. The achievement was very large on his country India as it was the first individual title for India in Olympics in 40 years. Also in 1996, Leander Paes found his ultimate legendary partner in Mahesh Bhupati and started teaming with him for the first time. Nobody realized how successful the Paes-Bhupati would be when they first started participating in the competitions.
Paes-Bhupati partnership was starting gaining momentum and reputation on the international stage and 1998 was their best career year as they reached semi-finals in French Open, Australian Open, and the US Open Grand slams. However, a year later they topped that even more as Paes-Bhupati became the first Indians to win two grand slams in a single year winning Wimbledon and French Open. Leander Paes became the no 1 doubles player and not only that he won two ATP tour singles competitions as well.
Leander Paes and Mahesh Bhupati continued their dominance along with winning the gold medal in Bhusan Asian Games in 2002. During 2003, Leander Paes started participating in mixed doubles along with Martina Navratilova. They immediately found success by winning Wimbledon and the Australian Open. Paes also changed his partner for men's doubles and won US Open with Martin Damm in 2006. The same year Paes-Bhupati partnership again won the gold medal in Doha Asian Games. In the same event, Paes partnered with Sania Mirza for mixed doubles and won the gold as well.
Paes suffered from injuries between the period and only won a major trophy in 2010 when he won the Australian Open in 2010 partnering with Cara Black. He was a very well reputed person and a good household tennis name so Paes joined the Board of Directors of Olympics Gold Quest. Paes still achieved success in 2013 winning US Open and in 2015 winning the Australian Open mixed doubles with Martina Hingis. Leander Paes retired from Tennis in 2021. Paes was provided Padma Shri for his incredible sporting achievement and contribution to sports in India.
Maritial Status
Leander Paes is currently single after getting divorced from his previous wife Rhea Pillai. The couple has a daughter whose name has not been released to the media. Rhea was previously married to popular Bollywood star Sanjay Dutt.
Before marrying Rhea, Leander was dating then-popular Bollywood actress Mahima Chaudhary. Their relationship was open and all over the media so much so that the couple was seen holding hands at ceremonies and parties. However, due to unknown reasons after dating for almost 5 years, they broke up and got separated.
Net Worth
Leander Paes is a popular and legendary figure for tennis in India. He has become a household name not only in India but Tennis lovers all over the world. Every tennis fan, player, and veteran in the world will remember the legendary Paes-Bhupati pair and how they used to dominate the tournaments. Paes also has quite a decent singles career winning multiple ATP tours but never winning a single Grandslam title. He has earned quite a fortune and prestige from his primary career as Tennis Player. Paes also had lots of endorsements and sponsorships from sports accessories such as Nike and ADIDAS. Leander Paes has a net worth of approximately $6 million as of 2021.
Interesting Facts
Leander Paes received Padma Shree award in 2001.
He had over 100 partners in mens doubles and mixed doubles tournaments.
Paes once dated popular bollywood actress Mahima Chaudhary.
Paes and Bhupati won 24 matches continuolsy in Davis Cup which is sitll a longest unbeaten record.
Leander Paes has a net worth of $6 million as of 2021.