Is Yancy Medeiros Married? Know About His Career.
Yancy Medeiros Jr. is an American mixed martial artist of Filipino and Hawaiian. Yancy used to practice Karate at his young age while growing up in Waianae. So, it is a plus point for him to get a title of rich and one of the best fighters of MMA. At the present moment, he is preparing or let say competing for the crown of Welterweight Division in UFC. He has competed in many divisions like a middleweight, lightweight, light heavyweight.
Let's explore more about his personal and professional life.
| | |
| --- | --- |
| Born Name | Yancy Medeiros Jr. |
| Nick Name | The Kid |
| Profession | American Mixed Martial Artist |
| Date Of Birth | 1987, September 7 |
| Birth Place | Waianae, Hawaii, USA |
| Age | 32 Yrs Old |
| Zodiac Sign | Virgo |
| Height | 5ft 10inch |
| Weight | 70.5 Kg |
| Net Worth | $28 Million |
| Eye Color | Dark Brown |
| Hair Color | Unknown |
| Girlfriend | Unknown |
| Wife | Unknown |
| Marital Status | Unmarried |
When and where was Yancy Medeiros born? What is his current age? Know about his family life and early life.
The kid nicknamed Medeiros was born on 7, September 1987 in Waianae, Hawaii, USA. It was the day of Monday when he came to the earth. His age is 32 years as for now. His zodiac sign is Virgo. He is called as Hapa Filipino and Hawaiian (Hapa means Half in both languages). No wonder he is a very talented and handsome fighter with good body and shape. Talking about his body, his height is 5'10" and weight is 70.5 kg. He is 1.78m and 178cm tall in height.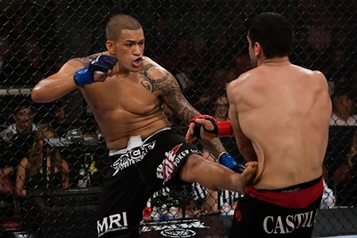 Yancy Medeiros journey towards the success of his career life. Know about his education life and career life.
During his childhood, he learnt Karate and also wrestled for his Waianae high school. He always says that this was the time when he determined to become MMA fighter. And currently, he fights out for Makaha, Hawaii, US and team Hakuilua.
Began with his career as a karate player and wrestling player at high school was his first step towards his dream. He started his training since 2007. His first fight was with Rigo Mendoza on Oct 19, 2007, where he won the Hawaii fight League. Then in 2008, he won four matches against Eddie Ohia(Jan 12), Larry Perreira  (May 3), Gino Venti( Oct 12), and Poai Suganuma (Nov 15) respectively.  Then after that, he entered his very initial fight at Strikeforce by winning the fight against Raul Castilo on Feb 26, 2010. Then he fought and won against Gareth Joseph on Jun 26, 2010. Here he debuts his Middleweight challenges.
This is the truth that a person can't win every time he fights. On April 27, 2013, he lost his debuted fight because of thump injury against Rustam Khabilov. Although he was introduced at Ultimate fighting championship (UFC) on Jan 31, 2013, as a formal part of Strikeforce transition, he fought his first fight in April. Again The kid( Yancy) got chance to prove his capability when he was paired against best known MMA fighter Yves Edwards at UFC on Nov 13, 2013. And because of his talent, he won also but it was cancelled or withdraw when he found positive in a drug test. He found of consuming of Marijuana. However, he again lost his battle against Jim Miller on April 26, 2014. And at last, he won his fight opposite to Justin Edwards on Aug 30, 2014. He fought Joe Proctor on Dec 12, 2014, at AFC 20 finale and he won. As a result, he gained the title of Performance of the Night bonus. 
The Yancy faced many fighters like John Makdessi (Dec 12, 2015), Sean Spencer (Sep 10, 2016), Erick Silva (Jun 3, 2017), Alex Oliveira(Dec 2, 2017) and he won all the fight. But he lost some fight on May 14, 2016, against Franciso Trinaldo, Donald Cerrone on Feb. 18 2018, Gregor Gilespie on Jan 19, 2019, and Lando Vannata on Feb 15 2020.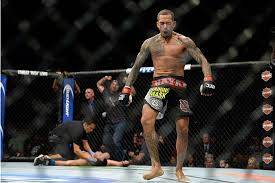 Yancy Medeiros personal life. Is Yancy Medeiros still single or dating or married? Know about his relationship status and love affairs.
Until now he seems to be totally focused on his career and has just took off at right direction. So, there are no rumours of affairs and married life. He has not opened his personal life to media and any social media. But he tribute his father only on Instagram. There are no information about his wife, girlfriend and other family members on the internet or other wiki-bio pages.
Know about the net worth and salary of Yancy Medeiros. How much does he earn in a year?
This hunk Yancy is known as one of the top ten richest fighters in Hawaii at the young age of 32. It is very much surprising that at this young age Yancy has earned lots of love as well as net worth. His total net worth is around $28 million approximately in these years. Yancy has worked very hard in order to reach that amount of net worth in his career life. He hasn't disclosed about his salary till today on any other wiki-bio pages.
Is Yancy Medeiros active on social media sites? Follow him on his Facebook, Twitter and Instagram to know more about his daily life activities.
Yancy Medeiros is active on social media sites such as Instagram, Twitter and Facebook. He has almost about 89.6K followers on Instagram and 21K followers on Twitter.  He has 8K followers on Facebook. To know about his daily life, follow him on his social networking sites,
Like Yancy Medereios on his Facebook: 
facebook.com/Yancy-Medeiros
Follow Yancy Medereios on his Twitter:
 twitter.com/ymedeiros 
Follow Yancy Medereios on his Instagram: instagram.com/yancymedeiros
Where and when was Yancy Medeiros born?
1987. September 7 in Waianae, Hawaii, USA
What nationality does Yancy Medeiros belong to?
American
What is Yancy Medeiros 's ethnicity?
Unknown                 
What is  Yancy Medeiros 's eye colour?
Dark Brown
Which colour of hair does  Yancy Medeiros have?
Unknown
How tall is  Yancy Medeiros?
5feet 10inch
How old is  Yancy Medeiros?
32 Yrs Old